Antipsychotics are the most common treatment the for schizophrenia. Research shows they reduce delusions, hallucinations, and relapse rates. Regrettably, they are far from a complete solution. Researchers examining the results of a landmark federally-funded antipsychotic study put it succinctly, "The majority [74%] of patients discontinued their [antipsychotics within18 months]... indicating substantial limitations in their effectiveness..." [1]
To maximize recovery, schizophrenia is best considered in a broader context that considers antipsychotics' partial effectiveness, risks, and limitations as well as the many evidence-based nondrug options available (free monograph). This full view helps individuals and their practitioners make the most informed care choices.
Antipsychotics: benefits, risks & limitations
A sobering review of gold standard evidence
Benefits. Antipsychotics can help some people with schizophrenia. Large doses can provide effective sedation which can calm psychotic crisis. In addition, 9% of people with acute psychosis see substantial improvement in their positive symptoms (like delusions and hallucinations) attributable to antipsychotics. [2] Regrettably, the remaining 91% respond just as well to sugar pills as they do to antipsychotics. In addition, antipsychotics do little to help negative symptoms like apathy and lack of emotion.
Side effects. Almost everyone on antipsychotics has side effects and they are often serious. Frequent sizable weight gain increases the risk of diabetes and cardiovascular disease. Sexual dysfunction is common. Cataracts, lethargy, insomnia, severe restlessness, involuntary Parkinsonian-like movements, dizziness, seizures, brain shrinkage, and more may occur.
Long-term risk. The past Director of the National Institute of Mental Health concluded, "Remaining on [antipsychotics] long-term might impede a full return to wellness". [3] His statement is grounded in research that shows that people with schizophrenia who avoid antipsychotics are much more likely to achieve long-term recovery than those who use them. [4]
​
This is consistent with a study of people living in recovery from schizophrenia. Although antipsychotics reduced acute psychosis, the drugs compromised normal functioning and recovery. [5] Participants found the drug's physical and cognitive effects impeded their return to normalcy when taken long-term. See the graphic for research statistics on the limitations and risks of antipsychotics.
A New Paradigm: Integrative Mental Health
Looking beyond symptoms to causes. Many practitioners are adopting an extended paradigm that looks beyond drugs. They see numerous factors dynamically interacting to cause mental distress - many we understand, others we don't. The combined weight of these factors can lead to episodes of schizophrenia and sometimes "break the camel's back" and precipitate major psychotic crisis (see graphic).
Offering personalized care. Integrative practitioners delve deeply into the unique constellation of causative factors facing each individual using detailed diagnostic tools. From this analysis they create personalized treatment plans.
Using a broad menu of options. Integrative Mental Health treatment plans nearly always include evidence-based nondrug options. These options are drawn from 27 broad nondrug approaches shown effective for mental wellness. Nearly all options can be used with drugs, they typically have far fewer and milder side effects than drugs, and in many cases their use can reduce - and in some cases eliminate - the need for drugs.
Delivering better outcomes. Drugs alone rarely deliver recovery. Thankfully, you have options. There are hundreds of gold-standard studies that show psychotic symptom relief from select nondrug options. Limiting yourself to drugs limits your avenues to wellness.
​
Defining a new discipline. Many psychiatrists, GPs, nurse practitioners, naturopaths, therapists, medical specialists, and others are joining the paradigm shift to Integrative Mental Health, embracing the best of drug and non-drug care. These practitioners see that our mind, body, and emotions require a more holistic solution than pills alone can provide. They acknowledge a role for drugs, but consider them cautiously, especially for the developing brain and personhood of children.
Wellness Continuum
​
4

forms of care for
schizophrenia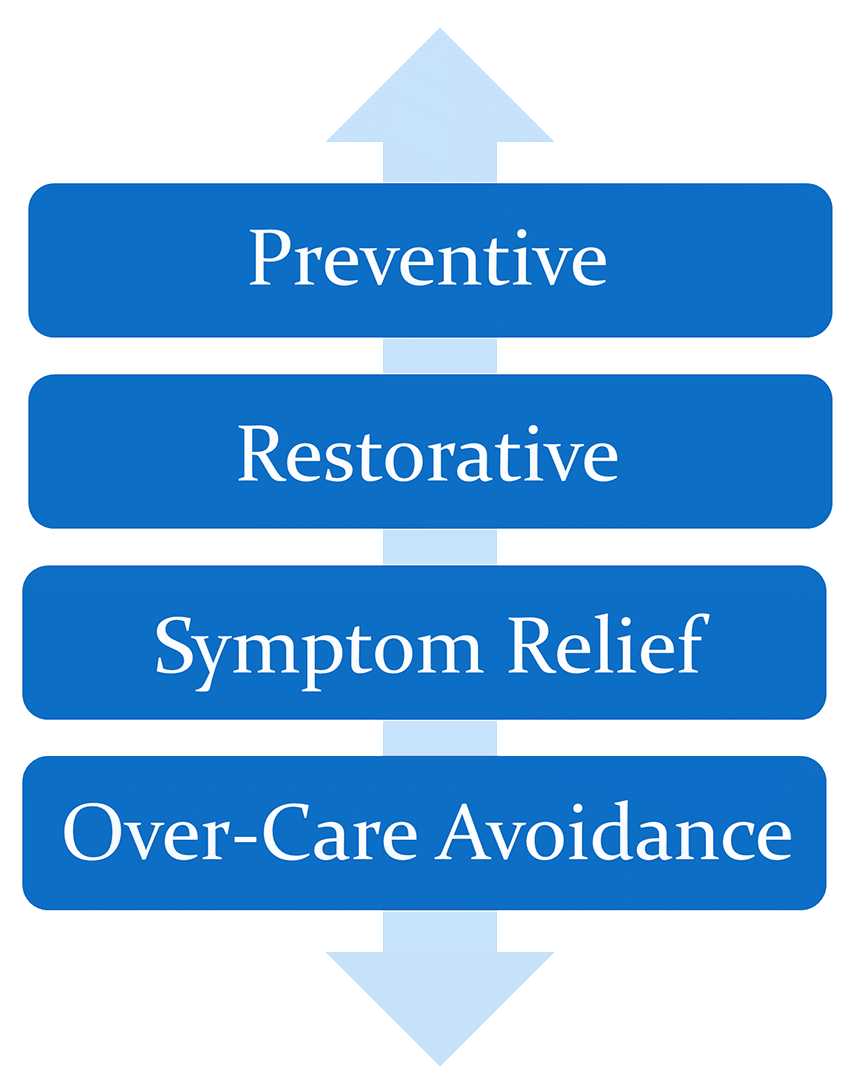 Adapted from the U.S. Institute of Medicine and European Union of General Practitioners/Family Physicians. [25]
Preventive approaches help avoid symptoms. These include proper diet, gluten-sensitivity care, mindfulness, stress management, ensuring gut-health, social interaction, and more.
Two methods work to address causative factors of schizophrenia.
Biomedical practitioners (see practitioner finder) help identify and support your unique bio-individuality using robust lab tests. 25% of the time mental distress is caused or influenced by physical issues. [17] Testing helps uncover nutrient imbalances, hormonal issues, amino acid irregularities, food allergies, inflammation, and other issues that are directly associated with psychosis. Treatment is grounded in individualized nutrient therapy.
​
Psychosocial practitioners help address painful human experiences. Considering trauma is especially important since there is a strong correlation between childhood trauma and schizophrenia. Open Dialogue and other therapies that directly engage with the hearing-voices experience can be effective interventions for psychosis. Peer Support provides "been there" support from those living in recovery that can be vital. Cognitive Behavioral Therapy for Psychosis helps make voices less malevolent and reduces depression often found with psychosis.
Symptom relief addresses symptoms not removed by preventive and restorative care. Voice coping strategies, nutrients, herbs, and low-charge electrical stimulation have been shown effective for schizophrenia.
Over-care avoidance limits interventions (usually drugs) to only what is necessary.
Over-care can be expensive and harmful. It can lead to prescribing cascade where
new drugs are increasingly added to address side effects created by previous ones. Studies show that the greater the number of drugs taken, the greater the suicide risk and the worse the outcomes.
​
Using multiple antipsychotics is particularly risky and the American Psychiatric Association is working to to curb the practice.[8] Unfortunately, it is common for schizophrenia; the prevalence varies widely with some countries seeing rates as high as 70%. [9]
​
Psychiatrists are considering de-prescribing plans for their patients based on psychiatric drugs' risk/benefit profile. [6]
Special Focus: Nutrient Therapy
The Walsh Institute has what is likely the largest blood chemistry database in the world for those with schizophrenia. From this data they have identified five primary schizophrenia biotypes: overmethylation, undermethylation, pyrrole disorder, gluten intolerance, and a category that includes thyroid deficiency. [10] Oxidative stress and methylation issues - processes related to our immune response - are common across biotypes. Determining your biotype from comprehensive biomedical tests helps identify an individualized nutrient response.
When people with schizophrenia use customized Nutrient Therapy based on the Walsh Institute's protocols, 75% report significant symptom improvement and the ability to reduce medication, while about 5% can eliminate medication altogether. [10]
The limited effectiveness and many challenges of antipsychotics make their risk/reward profile much less favorable than most people think.
This is one reason why key voices in mainstream psychiatry support nondrug options. Dr. Kenneth Duckworth, Medical Director of the National Alliance on Mental Illness, is clear: "... psychiatric medications... are rarely enough to promote recovery alone... Use of non-medication strategies is crucial for most clinical situations." [11] Mental Health America advocates many nondrug options. [12] And the American Psychiatric Association sponsors a special interest caucus of psychiatrists grounded in the growing number of nondrug options of Integrative Mental Health. [13]
​
Always work closely with your doctors as you make care decisions. They are your trusted guides. Also independently educate yourself since Integrative Mental Health is not yet prevalent in psychiatric care. You will likely need to expand your team to include integrative practitioners if you seek to use nondrug options as part of your recovery.
​
Although non-drug options aren't a panacea, many people are reclaiming their lives thanks to the expanded menu of options of Integrative Mental Health. Their self-determined return to normalcy can offer you compelling and pragmatic reasons for hope.
Resources
​
Footnote references are removed in the mobile version of this page to respect small screen sizes. They can be found in the desktop version.